How to Treat "No Trespassing" Signs in the Field Services Business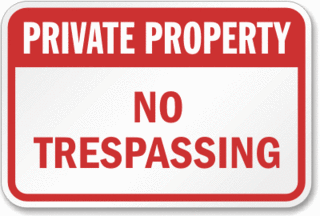 Mortgage Field Service contractors are faced with the dilemma of providing occupancy verification and letter delivery services to all sorts of properties for their clients.
Properties with "No Trespassing" signs can and often are treated in the same way as "no contact" inspections. Inspectors are asked to take detailed photos of the signage, but to always keep their personal safety in mind. With the exception of bankruptcy cases, if we choose not to cross a "No Trespassing" sign, then we need to reach out to the neighbors to verify occupancy. Just because there is a No Trespassing sign does not mean that we cannot provide accurate results to our clients.
The laws about No Trespassing are interpreted and applied on a case by case basis and can be confusing.  For our part, our clients do not expect us to trespass just to put a door hanger on occupied property.  But they do expect the occupancy results.  We NEVER leave a door hanger or letter on the "No Trespassing" sign itself, or anywhere else other than the door.  On vacant properties it is more than likely an old sign that was never removed.
The best practice to keep in mind when ever you encounter a No Trespassing sign is to ask yourself, are you trespassing?  If you are representing the bank or the investors interest and are there to conduct official business, then who would ever think that you are trespassing?  Does it really make sense to believe that a person can buy a home, have a mortgage on the property, become delinquent in their house payments, slap up a No Trespassing sign so that they can stay there forever without paying or being asked about the payments?  If you have no business at the property then you are probably trespassing.  If you are there at the property for official business, then you are not trespassing.
Imagine this, let's say you are delivering a pizza and you saw a No Trespassing sign.  What would you do?  Would you consider yourself trespassing?  Of course not. You are there to do business.  It's the same way with the Mortgage Field Services industry.  Built into that stack of papers (that nobody reads) when they go to the signing of all those documents when buying a house, is the right provided to the mortgage company to periodically send inspectors to take updated photos and to check on the condition of the property. The homeowner gave permission for inspectors to take photos of their property whether they read it or not.  
The following information may be helpful to field service inspectors.  It shows that actually, we can, legally deliver a door hanger or letter to a property even it No Trespassing signs are posted, because we have the legal right to do so as part of the mortgage process. Of course this is a regulation that you would need to determine based on the state you are conducting mortgage field services in.  The example below is for the state of Oklahoma.
HB 2984, the trespass reform bill championed by the Oklahoma Farm Bureau, has been signed into law by the governor and will become effective on November 1. What does that mean for private property owners? How does this law apply? Who is affected? Who is not?
The new trespass law clearly states that whoever willfully enters the private land of another that is primarily devoted to farming, ranching, or forestry purposes, without permission by the owner or occupant shall be guilty of trespass. This means that anyone entering private agriculture land must have permission to enter, or he or she is trespassing. The landowner is no longer required to post or to prove the land was posted for "no trespassing," but it is not a bad idea to leave your signs up as an extra deterrent.
The law does not apply to peace officers or federal, state or local government employees while performing their official duties; or to firefighters, emergency medical personnel or public utility employees addressing an emergency; or to parties engaged in oil and gas operations acting under a legal agreement, permit or order. Basically, law enforcement and others working to assist the public are not trespassing when they enter private agricultural land to carry out their official duties.
Others who may enter such land, unless forbidden to do so by the owner or occupant are: registered land surveyors to perform their services; persons in the sole process of retrieving their livestock or animals; persons making a delivery, selling a product or service, conducting a survey or poll or working on behalf of a political candidate or who otherwise have a legitimate reason for entering and immediately upon entering seek to conduct that business. This means that those who can show a legal or lawful reason to be on the property will not be considered trespassers, unless they had been told not to enter by the landowner.